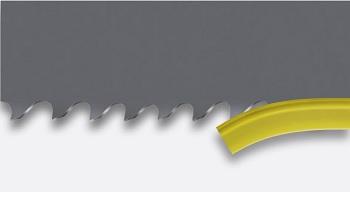 German based sawing technology expert, ARNTZ Gmbh + Co. KG, introduces new article group 557 M51-X-PRO, a standard bi-metal band saw blade. It is an extremely wear-resistant teeth cut demanding workpieces (beams & pipes) reliably and economically. Powerful at high cutting speeds and feeds, also produce precise results in sawing processes using Minimum Quantity Lubrication (MQL).
The powerful X-PRO is further development of the proven allrounder 457 M42-X-FIT. The multi-purpose blade for small and medium cross-sections is engineered for steel beams, profiles & tubes, and mixed materials. The applications of X-FIT and X-PRO saw bands in mixed materials reduce set-up costs, minimize storage costs, and increase customer productivity.
The ARNTZ saw blades are high-performance tools which are cost-effective, reliable, and perfectly matched to the relevant application. The company's operational structures allow it to quickly and individually address the individual needs of the customers and create optimal solutions, as well as offer on-site assistance if required, on product issues and fine-tuning.
www.arntz.de