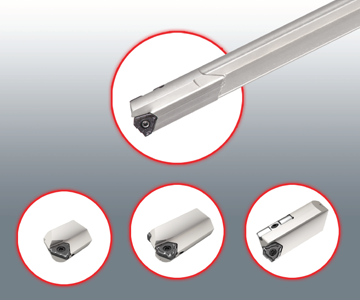 ISCAR Ltd and UNITAC (Member IMC Group) expands the TRI-DEEP tool assembly launching the GDH head - a front brazed connector, as a separate sales item. The primary objective is to offer customers who are using brazed gundrills the opportunity to replace the portion of the front carbide with a GDH head without replacing the entire tool. Thus, promoting the TRI-DEEP (Gundrill and Deep Drilling Heads) products in the local markets and customers can purchase GDH heads as well as re-braze the head.
It provides the advantages of deep drills with a 3 cutting edged insert, whereas other manufacturers only offer inserts with 1 / 2 cutting edges. A highly precise peripherally ground insert offers high hole diameter accuracy of IT10. It produces narrow chips which allow efficient chip evacuation and higher feed rates than other drills in the market.
Furthermore, a wiper on the insert provides additional fine surface finish and with direct insert mounting, no adjustment needed to achieve accurate hole diameter. In addition, it mounts new economical solid carbide or brazed guide pads. A wide variety of potential industries for deep drills include engineering, oil & gas, shipbuilding, automotive, power generation, die & mould, heavy industries, and heat exchangers.
www.iscar.com