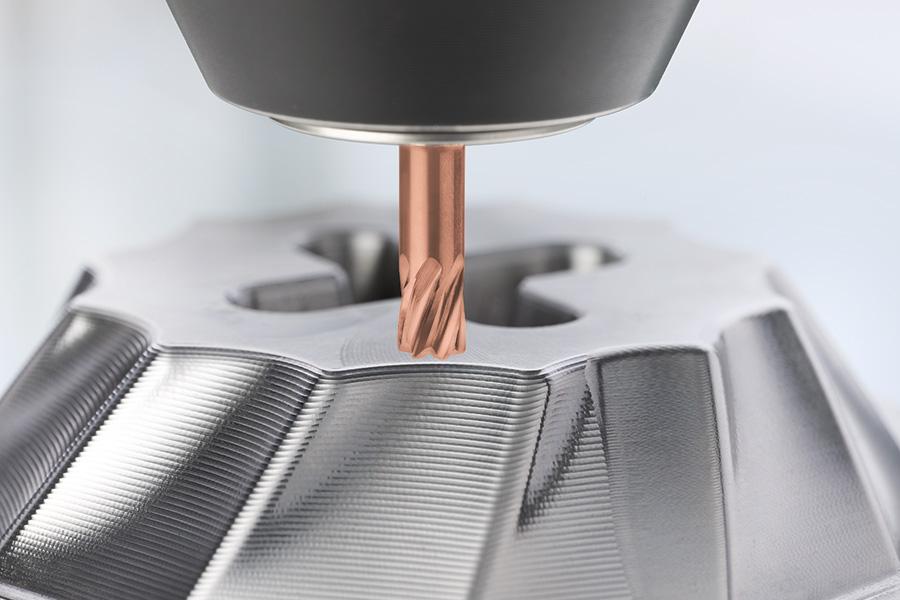 LMT Tools, one of the leading experts in the development and production of precision tools, takes high-feed milling to the next level with its new HFC family. With the HFC (High Feed Cutter) product line, the company now introduces the next generation of tools for high-feed machining. The innovative end mills combine the technical know-how and extensive experience of the tool expert, ushering in a new era in high feed milling.
State-of-the-art tools for high feed machining
Every detail of the HFC cutters is optimized for high feed applications, from the geometry and tooth count to the substrate and coating. The tools cover a wide range of applications and enable efficient machining in any material. The new HFC family consists of four product lines: HFC P for steel and cast iron, HFC M for austenitic steels and superalloys, HFC H for hardened steels, and HFC U for ISO groups P, M, and K.
High feed cutters for utmost process reliability and efficiency
Cutting edge geometry, substrate, coating, and cutting edge treatment have been specifically developed for the materials to be machined and are perfectly matched. The HFC P, HFC M, and HFC H cutters are successors to the CARBFeed family. Their long cutting edge ensures high stability and low-vibration machining. Even deep pockets can be milled with the HFC featured cutting lengths.
The HFC P and HFC M tools have four cutting edges and, thanks to their S-shaped edge design, provide an exceptionally smooth cut. This protects the machine spindle and positively impacts tool life. The HFC M is also equipped with internal cooling, which prevents built-up edges. The HFC H tools have been developed for the most demanding applications and can machine hardnesses of up to 65 HRC. Six to eight cutting edges guarantee even load distribution and maximum productivity.
Optimized for universal use
The two-edged HFC U is designed as a universal solution and achieves excellent results in both steel and cast iron, as well as austenitic steels and hard materials. The large chip space ensures efficient chip evacuation, and a chamfered edge reduces stress on the cutting edge. HFC-U fully demonstrates its strengths, especially in face milling and corner milling.
Setting new standards in tool life and productivity
The new High Feed Cutters by the company achieve very high metal removal rates with utmost process reliability, excellent surface quality, and long tool life, and thus enable a new level of cost-effectiveness. Whether in die and mold making, general mechanical engineering, aerospace, or other industries, wherever high feed milling is applied, the HFC cutters enable significant performance and efficiency improvements. "The tool life and productivity of our new HFC family are up to 130 percent higher than our previous product families. This represents a significant boost in performance for production," emphasizes Marcus Paul, Global Head, Product Management, LMT Tools.
www.lmt-tools.com