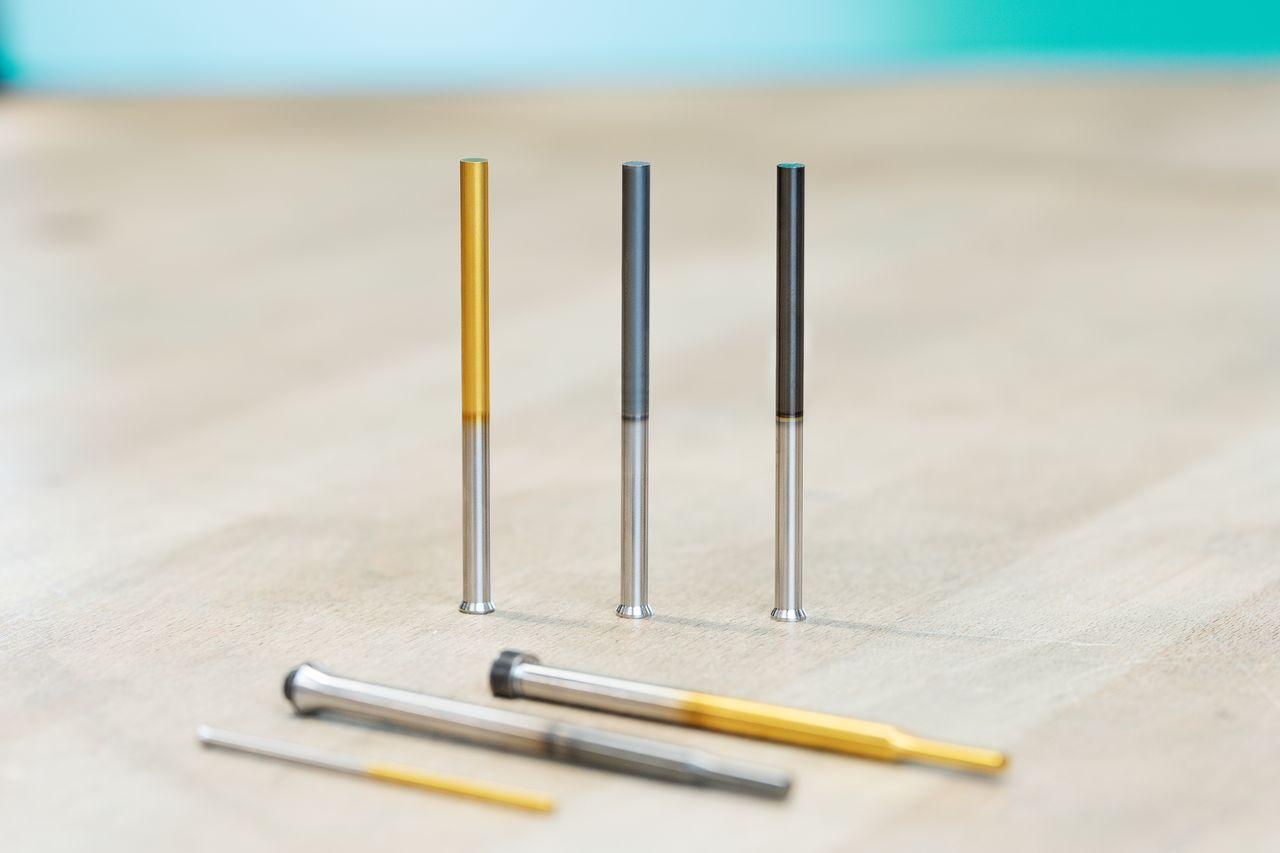 Configurable cutting punches with the coating increase service life of cutting punches and reduce machine downtimes. Meusburger Georg GmbH & Co KG presents innovative cutting punches configurator that can be individually customized with required coating and cutting dimensions. The coatings are generally of Titanium nitride (TiN), Aluminium chromium nitride (AlCrN), and Diamond-like carbon (DLC). The coated cutting punches have advantage of lower friction coefficient (0.4, 0.35, 0.1-0.2 respectively) that decrease retracting forces too. Depending on the object to be punched, various coatings are used.
PVD TiN Coated cutting punches from Meusburger of brand 'Balinit® A TOP', has a distinctive golden yellow coloured coating and hardness of about 2,300HV. TiN is considered the classic standard coating for cutting tools, often used today, and is suitable for sheet metal with low as well as medium hardness. Superior performance than TiN coating, the company offers PVD AlCrN coating with hardness of around 3,200HV through its 'Balinit® ALCRONA PRO TOP' brand.
It is grey coloured, mostly an 'all-round coating' and covers the largest area of application, recommended for sheet metal with high hardness. In addition, AlCrN has a maximum service life when compared with uncoated or TiN coating. The Meusburger brand of 'Balinit® TRITON' PACVD DLC coating has been used in mould making applications for some time now to minimise wear on guide pillars, centering devices, and ejectors. The coating is with a hardness of approximately 2,500 HV, and thickness of 2 µm. Also, due to its extremely low coefficient of friction, these are used for punching non-ferrous materials such as aluminium, brass or copper, as these are prone to galling.
www.meusburger.com