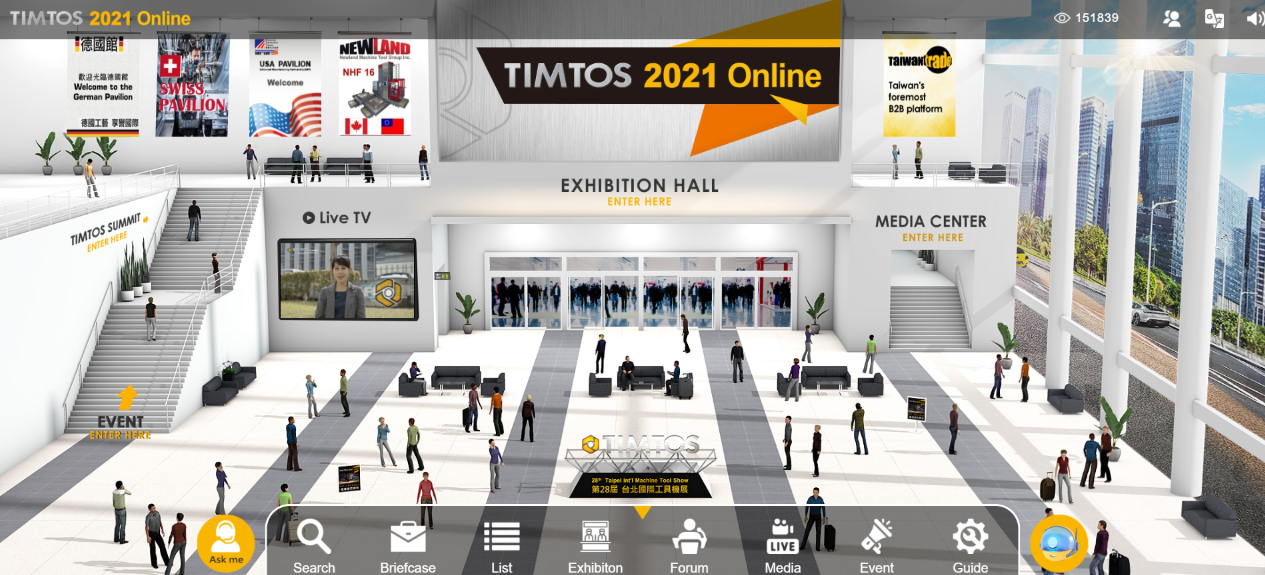 TIMTOS 2021 Online, drawing the attention of the global metal processing and machinery industry, gained over 120,000 visits in its 6-day exhibition period, with visitors from 58 countries, the top five among them were India, Japan, Vietnam, China, and Turkey. Fair Friend Group, Yeong Chin, Tong-Tai, Leadwell, Equiptop, Kao Fong, and Victor Taichung received overwhelming responses from the attendees.
Organized by TAITRA and TAMI from March 15-20, TIMTOS 2021 Online was held with the aim to break time and space constraints to seamlessly connect exhibitors with global buyers, to showcase their new products through unique digital technology user experience. It was coupled with pre-event online activities helping it to conclude successfully, creating business opportunities, and getting an overall thumbs up from the industry.
Five-axis vertical machine tools, CNC lathes, turning & milling composite lathes, collaborative robots, rotary tables, and automatic sanding belt grinders were of particular interest to the visitors. The event gathered positive feedback from visitors / exhibitors with over hundred business meetings held and have seemed to set up a new paradigm for the global machinery industry to follow in holding the online exhibitions.
The General Manager of Turkey based HAKSAN Machine, confirmed TIMTOS Online as a clear and easy-to-operate interface to view exhibitors' product information and identify potential suppliers, but also on the fair price and high quality of Taiwan's machine tool products. On similar lines, the CEO of APM Trade as a visitor, also praised the event for its simple and easy to use interface, added that he was successful in interacting with suppliers for business considerations. Other Italian visitors such as FAUSTINO PITTORI & C and DUPLOMATIC MOTIONS SOLUTIONS also affirmed the success of the exhibition as well.
A highly popular series of events launched in August previous year, TIMTOS Glimpse was relaunched with the theme of 'Smart Manufacturing Factory Tour' during the online exhibition period. Additional events including TIMTOS Studio for new product launches, the TIMTOS Factory Live for showcasing the factories of suppliers and the 'Smart Manufacturing Summit' were also aired to help buyers grab industry trends first-hand amid the pandemic. With the accumulated video contents, a total number of viewers exceeding 10,000, will continue to spread their popularity online through the browse mode.
Fair Friend Group (FFG), a high-profile exhibitor, asserted that as global economic activities shift gears to online development, the transmission of information has turned out to be more comprehensive in terms of speed, depth and breadth. The online platform not only helps the company promote its technology and image, but the TIMTOS Glimpse featuring them launched with the organizers even helps support the FFG agents to promote its businesses in markets that have been less explored due to time and geographical limits, including Central and South America.
Taiwan's machine tool industry on its road to recovery ultimately gets a positive impetus and an increased boost of conference with the event. From March 21 - April 15, 2021, the online exhibition has been switches to display and browse mode, during which visitors can communicate with exhibitors through text messaging function and check the Show Weekly in the online media center on a weekly basis. It is expected that the global buyers will be following TIMTOS Online and the next TIMTOS will be presented in a hybrid format merging the real with the virtual.
www.timtos.com.tw/en