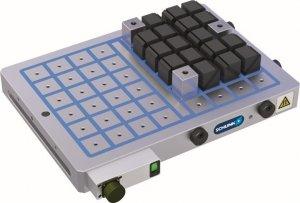 Triumph Tool Ltd, a leading distributor in metal cutting tools and related niche products, emphasizes on magnetic clamping technology which can be a valuable addition to any machine shop seeking to expand its capabilities. Magnetic work holding has been around for over two decades, but it is only now becoming more common for milling, turning, and grinding. Machine tools and machining centers are now capable of managing complex machining operations with a single set-up. In such operations, magnetic work holding provides an efficient method of clamping production parts as well as the flexibility to accommodate families of parts. The company's preferred supplier for magnetic work holding, Schunk GmbH & Co KG, offers a range of products for Milling (extremely high holding forces for machining-on-machining centers), Turning (low-deformation clamping of rings and fitting disks), and Grinding Applications.
How magnetic work holding works
Workpieces can be mounted flat onto magnetic chucks and five sides of the workpiece can be easily accessed. The permanent magnetic clamping force is exerted uniformly around the entire workpiece, thus effectively eliminating vibrations. The workpiece forms half of the magnetic circuit in magnetic chucks. The chuck serves as the engine, while the part closes the magnetic circuit and generates clamping force. However, it is important to note that different materials have varying magnetic saturation levels, resulting in different maximum holding forces. The ultimate holding force potential of mild steel ranges from 210 - 220 psi. For alloy steel and soft tool steel, the holding force must be reduced by around 20 percent, and around 40 to 50 percent for hard tool steels and cast irons.
Magnetic chucks can hold workpieces as well as (or better than) mechanical clamps in many cases and another advantage is that there are no clamps to obstruct the machining process. An electro-permanent magnet is the magnetic system of choice for milling machine and machining center applications. This new concept is a hybrid between electromagnets and permanent magnets. Electro-permanent magnets are activated by putting the workpiece on the magnet and pressing a button to transmit an electric current that actuates the magnet and when the job is done, the magnet is de-energized with a second jolt. This system, like a permanent magnet, is fail-safe and portable, making it ideal for machining applications.
The Benefits
Magnets are the easiest to set up of any system, resulting in less machine downtime, and these chucks can be used with any ferromagnetic work piece, regardless of shape or size, providing flexibility. It is the only system that offers maximum surface clamp force, reducing vibration and improving quality. By holding the total contact area of a workpiece, magnets allow the machine to cut with less chatter and thus faster.
In addition, the lack of clamps around the workpiece allows the machine to cut without halting, as well as simplifying programming and eliminating the time taken to reposition the clamps. Furthermore, magnetic clamping technology provides predictable and consistent clamp force. Since the magnets are either on or off, these chucks have consistent clamping pressure. Unlike mechanical clamps and vises, which can vary in tightness, the workpiece is always held firmly. A magnet needs little or no maintenance because there are no moving parts, threads to strip, or oil to clean. It is also energy efficient as the electrical consumption is only for a few seconds for activation and deactivation.
www.triumphtool.com