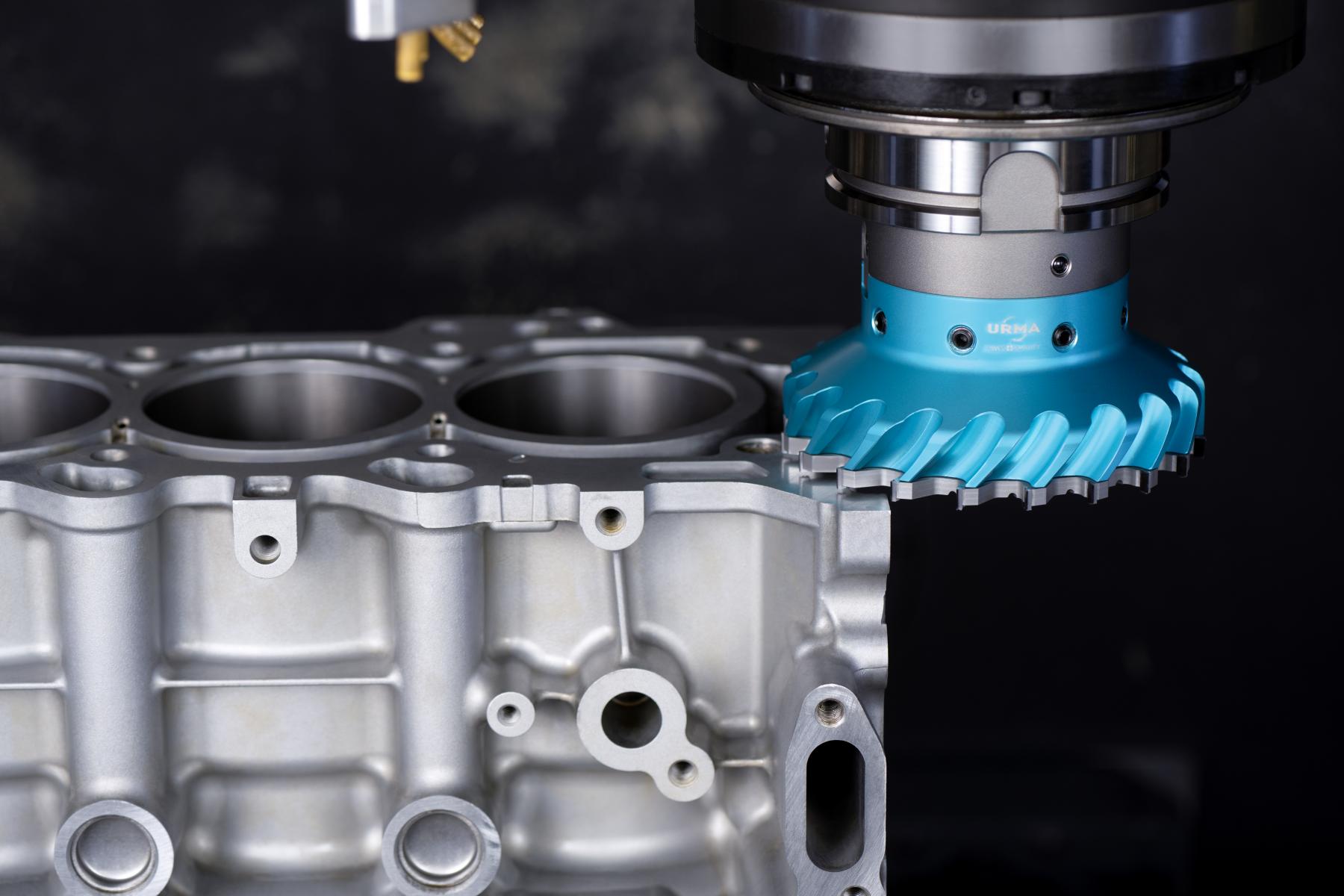 URMA AG, a drilling expert in the field of precision tools for over 60 years, is expanding its precision tool range with the diamond-tipped MX diamond shoulder and face shell mill tool, which is suitable for machining light metals such as aluminum. Here, too, URMA relies on the patented quick-change system, which promises the best handling and maximum precision. Under the motto 'Innovation is our tool', the family-owned company with its production site in Rupperswil (Switzerland) develops and manufactures precision tool systems that are used worldwide in the mechanical engineering, automotive, hydraulics, and aviation industries.
The market for light metal workpieces and their machining tools is constantly growing. The use of known shoulder and face mill tools works, but the handling is complex and time-consuming. The company has taken up this challenge and applied its vast experience in the application of high-precision quick-change cut-off points. The result: MX diamond is a completely new shoulder and face shell mill system. With this modular cutting tool, URMA relies on the proven and highly precise RX quick-change cut-off point, which guarantees perfect axial run-out without the need for subsequent correction when changing cutting edges. The teeth of the solid carbide cutting edge body are fitted with up to 20 PCD (polycrystalline diamond) tips and are ideally suited for machining lightweight materials such as aluminum, magnesium, copper-containing metals without iron, composites and fiber-reinforced plastics. This latest generation of face milling ensures lean production processes and automated production. Thanks to the high tool rigidity of the MX diamond, both finishing and roughing cuts can be made with the same cutting edge. With a feed rate of 0.05 to 0.3 mm per tooth and a cutting speed of up to 5000 m/min, MX diamond is ideal for series production. Various geometries are available to meet individual requirements.
MX diamond advantages at a glance
● Quick-change system for ease of handling: The high changeover accuracy of <0.004 mm concentricity and <0.002 mm axial run-out mean there is no need for the user to make repeated, time-consuming adjustments to the axial run-out. The cutting edge can be replaced in less than five minutes, saving up to two hours of downtime compared to similar shoulder and face milling tools.
● High hardness cutting materials: The PCD (polycrystalline diamond) tipping guarantees the best tool life, surface quality and process reliability.
● Aluminum / non-ferrous metal machining: The high hardness and chemical resistance of PCD is ideally suited for machining materials such as aluminum, magnesium, and fiber-reinforced plastics.
● High cutting speed with high feed rate: MX diamond is suitable for high-speed milling thanks to the high cutting speed with high feed rate and meets the greatest demands in terms of surface quality and accuracy.
● High rigidity due to solid carbide cutting edge body: The carbide cutting edge body is characterized by a very high tool rigidity, which prevents vibrations and micro chipping at high speeds and thus increases the tool life as well as the quality of the components.
● Optimal chip removal on account of the ideal chip space geometry and coolant supply: The perfect chip space geometry with integrated coolant supply ensures optimum chip removal at all times.
www.urma.ch